Launch of The Northern Star: 9 foundations join forces to shine together for better health care!
Representatives from the Foundations of 9 New Brunswick hospitals launched the 16th annual Northern Star Campaign today, an event organized in partnership with UNI Financial Cooperation. After more than two years of pandemic, this was the first time since 2019 that this launch was done in person, as the event was held at the Gowan Brae Golf Club in Bathurst.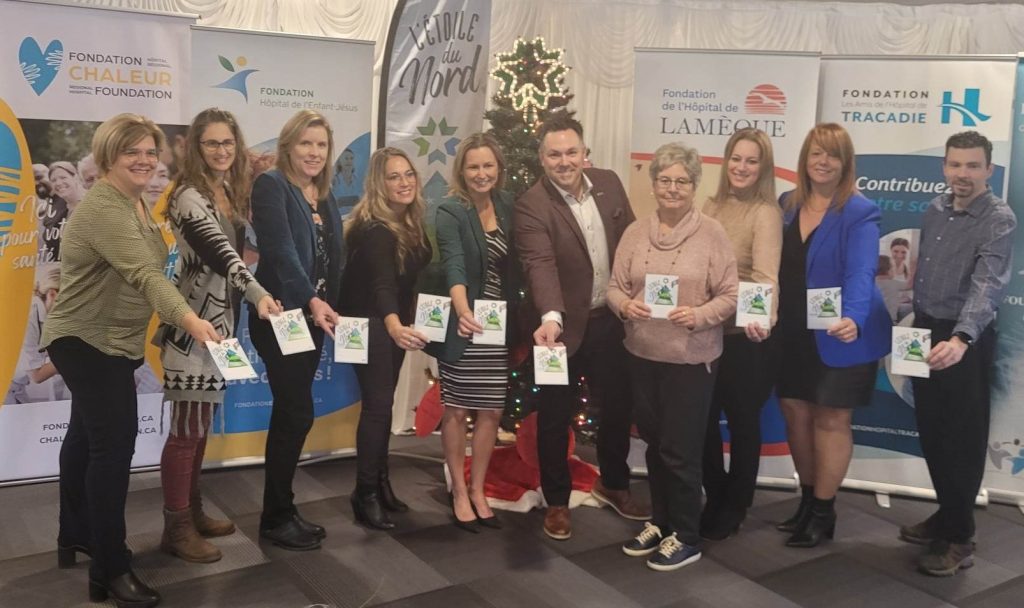 People are now invited to purchase mini trees for $2, $5, $10, and $20 each at participating UNI financial institution locations and at certain businesses in the regions involved.
"I encourage people to pick up their mini-tree at their UNI point of services to support their local hospital from now until the end of December. It is by working together that we can meet our challenges and with your support, we can make a real difference." said Sylvie Basque, UNI representative present at the launch.
The Northern Star campaign collects cash donations, the proceeds of which are donated to the various participating foundations. These contributions from the public and businesses help meet the health needs in their respective regions.
The nine participating foundations are:
Chaleur Regional Hospital Foundation (Bathurst);
Fondation Hôpital de l'Enfant-Jésus Inc. (Caraquet);
Foundation of the Friends of the Grand Falls General Hospital Inc. (Grand Falls);
Edmundston Regional Hospital Foundation (Edmundston);
La Fondation de l'Hôpital de Lamèque (Lamèque);
Friends of Healthcare Foundation (Campbellton);
Fondation Dr Romaric Boulay (Saint-Quentin);
The Friends of the Stella-Maris-de-Kent Foundation (Sainte-Anne-de-Kent);
Fondation Les Amis de l'Hôpital de Tracadie (Tracadie).
Dre. Marilyne Bossé, orthopedist at the Chaleur Regional Hospital in Bathurst and President of the Northern Star for the Chaleur region, stressed the need, now more than ever, to turn to the community to support health care efforts.
"As a health care professional, I have seen first-hand the needs of our hospitals and the support the Foundations provide to them. In a world where technology is becoming more and more important, it is important to be able to offer the best possible option to our fellow citizens. Without an event like the Northern Star, it would have been impossible for hospitals to purchase so much equipment." declared Dre. Bossé, referring to the amount of more than 1.2 million dollars raised since its beginning by this campaign.
Finally, December 1st will be dedicated to the lighting of the dedicated trees, as well as the figurines and community trees near the hospitals. The population of the respective localities is invited to take part in this evening, in order to show their support to their health establishment.
For information :
Suzanne LaPlante
Development Officer and responsible of communications
506-544-2370